+ FREE MIGRELIEF NOW (Travel Size $9.99 VALUE)
+ 20% OFF ENTIRE ORDER WITH COUPON CODE: FREENOW
Receive a FREE MigreLief-NOW fast acting formula (travel-size $9.99 value) with purchase of 60 ct MigreLief+M daily formula.
PLUS 20% OFF entire order when you use coupon code FREENOW.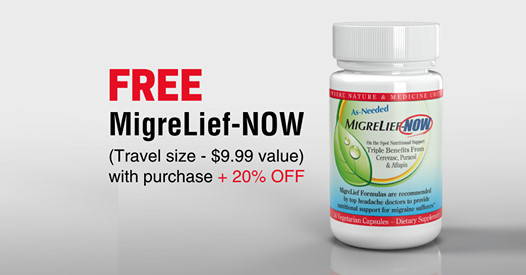 MigreLief-NOW provides on-the-spot nutritional support for neurological comfort.
Offer expires midnight 10/31/2020. One per customer.
May not combine with other discounts or auto-ship.
Note: Free product will not show up on your receipt but will be automatically included with your order.
Order MigreLief+M and get Free MigreLief NOW (Travel size $9.99 value) + 20% OFF entire order with Coupon Code: FREENOW at checkout.
* These statements have not been evaluated by the Food and Drug Administration. This product is not intended to diagnose, treat, cure, or prevent any disease.